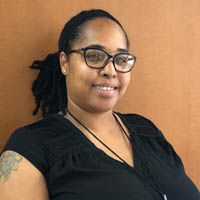 Since I've been in recovery, I have found a new way of living and a sense of purpose in life. I realized that there is more to life than drugs, alcohol, and the lifestyle that goes with it. I never really knew or even thought I had a problem. I started off just selling drugs, but that eventually led me to using. I quickly went from drug dealer to drug addict. I am truly grateful for my sobriety date of March 26, 2018 and for my past because it made me who I am today.
I couldn't stop drinking and using drugs long enough to complete my probation process, so I came to The Healing Place from the Department of Corrections. God intervened in my life and pulled me out of the madness and into the solution. When I first arrived at The Healing Place, I had no intentions of staying at all. I was just saying yes to coming so I could get out of jail. My plans were to go on the run… but I ended up staying. I wasn't sure if I'd even complete the program, but I did. I then made the commitment to become a peer mentor. I know this is the best decision for me. It is what I was sent to do in order to better my life.
The Healing Place boosted my confidence, gave me hope, and gave me integrity. I displayed my willingness and I now know that I can do whatever I set my mind to. I love myself, my family, and others, and I want to live the life that God intended me to live. It is so much better on this side. I am so grateful for the Department of Corrections for sending me to The Healing Place. This is the place that saved my life.