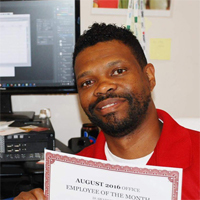 Since I've been in recovery, I have grown up. I was 26 when I came to The Healing Place and I didn't have a lot of life skills. I wasn't employable, teachable, or responsible. Before The Healing Place I had flashes of these attributes but it wasn't something that I based my life on.
I came to The Healing Place when I had nowhere else to go. I lived in Virginia so I was 500 miles away from home and everything I had was in a half of a duffle bag. I didn't know where my next meal or bed was going to come from. I had been living on the streets for two weeks. The Healing Place was truly the last house on the block.
The Healing Place taught me a new way to live and made me the man I am today. I'm now able to be a son, grandson, employee, friend, and coworker. I have also been blessed to become a father. My daughter doesn't ever have to know the man I was before I came to The Healing Place.